Canada is a well-respected developed nation that is more than just ice hockey and nature parks. It has a growing economy, a decent job market, and stable legal systems. It has a strong education system and high-quality universal healthcare.
Which languages are spoken in Canada?
In terms of the language, English and French are the two official languages. English is widely spoken throughout the country. Majority of the French speakers are located in the Quebec region of Canada.
Is Canada an economically liberal country?
In terms of economic freedom, Canada ranks higher than the US and within the top 10 globally.
What are the tax rates in Canada?
Individual tax rates in Canada are high, with the top bracket coming in at 33%. However, its corporate tax rate is just 15%. Doing business Canada is quite attractive for businessmen and entrepreneurs around the world.
How many countries can I visit visa free?
Canada's passport happens to be the fifth strongest in the world. Canadian passport holders can travel visa-free to about 185 countries around the world. That is a very handy benefit for a global businessman, who has interests in multiple countries.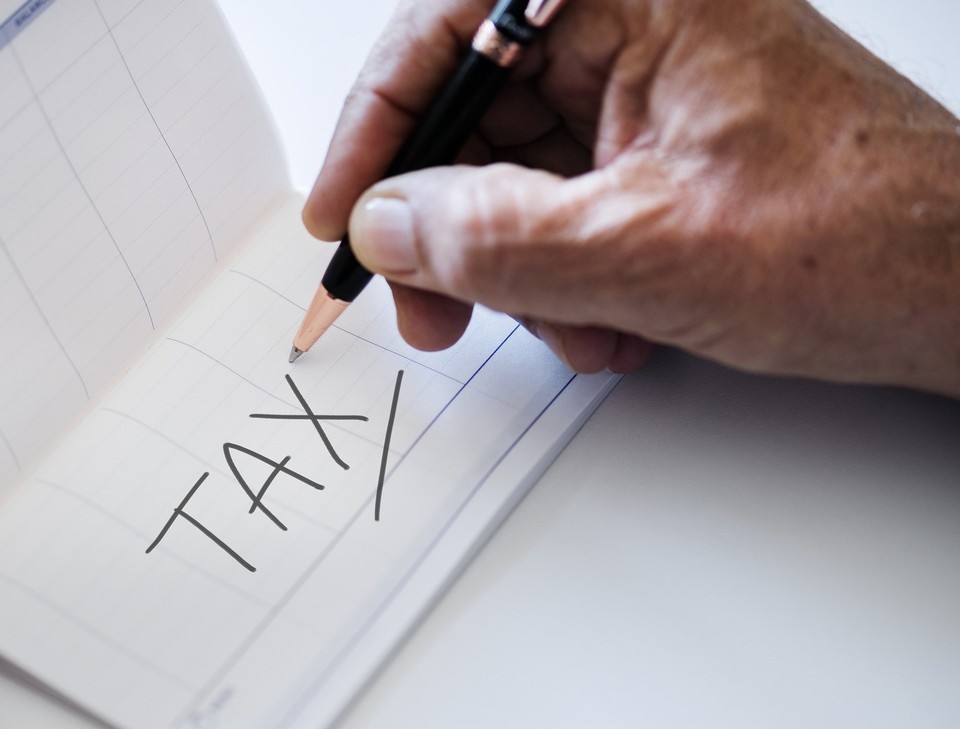 Can I hold dual citizenship in Canada?
Canada allows dual citizenship. So, you can hold on to the passport of your home country and freely travel, live, and work in Canada at the same time.
The only significant rider for dual citizenship is that you lose the right to vote in federal elections if you live outside Canada for over five years.
So, after learning about all these benefits, you might be thinking about becoming a Canadian citizen.
How can I increase my chances of getting a Canadian passport?
However, Canada's immigration system is a lot stricter than even America's. It heavily favors entrepreneurs, venture capitalists, and high-skilled workers. Becoming a citizen is not very straightforward. Let us look at the process of attaining Canadian citizenship.
Steps to become a Canadian citizen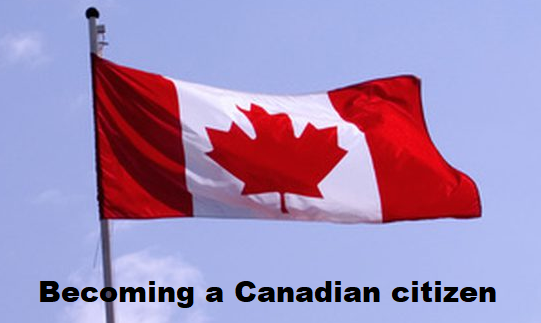 There are 5 main steps involved in becoming a Canadian citizen:
Step 1 – Permanent Residency
First, you have to become a permanent resident. There are many ways in which you can become a permanent resident. You could be running a business, get married to a Canadian citizen, have Canadian descent in your nuclear family, or be a high-skilled worker. Getting permanent residency is perhaps the toughest part of the entire process of becoming a Canadian citizen.
Step 2 – Naturalization
Naturalization means being present in Canada for 1095 days within a five year period. The presence does not have to be continuous and there are no minimum days to fulfill in one calendar year either.
Your stay in Canada on a temporary basis also counts towards this requirement of 1095 days of stay within Canada. Temporary status includes staying in Canada as a refugee, visitor, or student. However, there is one rider. Every day spent on temporary status counts as half-a-day. Additionally, the number of days that can be counted towards naturalization while on temporary status is capped at 365 days.
You will also have to demonstrate that you have filed your income tax returns throughout your stay in Canada. Only after you fulfill this requirement will you be able to take the citizenship test. The citizenship test is a prerequisite (in almost all cases) to getting a citizenship certificate.
Step 3 – Apply for citizenship
Now that you have attained permanent resident status and are naturalized resident as well, the next step is to apply for Canadian citizenship. In order to initiate the process, you need to fill out the application form on a computer and print it out. Then you have to submit your application along with all supporting documents.
An application fee of CAD $630 is payable as well when submitting the documents. The application is then assessed and it can take up to 12 months before you find out about your eligibility. If you are deemed to be eligible for citizenship, then you will be invited to have an interview with an immigration officer. The interview is meant to assess your language proficiency and other criteria for becoming a Canadian citizen.
Step 4 – Take a citizenship test
The final step, if you are successful in your citizenship application, is to take a citizenship test. This test is a written examination in which your knowledge of Canadian history, geography, culture, and government is assessed.
A time and date are assigned to you in advance for taking the citizenship test. If you fail the test once, you can re-take it again. However, if you fail for a second time, then you will have to go through a citizenship interview.
Step 5 – Citizenship Ceremony
You have passed the eligibility phase and the citizenship test. You are now ready to become a Canadian citizen. A citizenship ceremony will be scheduled and you will be assigned a date for attending that ceremony.
That is the day when you officially become a Canadian citizen. You will receive your citizenship certificate at the ceremony. You have to take the Oath of Citizenship and sing the Canadian national anthem at this ceremony.
Can I get Citizenship by Descent?
If either of your parents is a naturalized citizen of Canada or if he/she was born in Canada, then you are eligible to get Canadian citizenship by descent. You are eligible even if you have lived outside Canada all your life or if your Canadian parent also lives outside Canada.
For people who were born before 2009, they are eligible for citizenship by descent even if one of their grandparents is a Canadian citizen. The year 2009 is emphasized because that is when the law changed. The change in law, however, was not applied with retrospective effect and that is why those born before 2009 can still be eligible for citizenship by descent.
In certain specific cases, a person who can prove to have ancestors (going back a few generations) who were Canadian citizens can also apply for citizenship by descent.
How do I start the process of getting citizenship by descent?
The application process for acquiring citizenship by descent begins with an application for getting a citizenship certificate. This application form is filled on the computer and then printed out.
All supporting documents along with the application form are submitted. All copies of documents that are part of the application need to be certified by a public notary.
What does it cost?
An application fee of CAD $75 is also to be paid when submitting the documents. There is no citizenship test if you are applying for citizenship by descent. The reason is that you are trying to prove that you are already a Canadian citizen. The process for the citizenship certificate to be issued takes about 5 months after all the documents have been submitted.
Can I Get Citizenship by Marriage?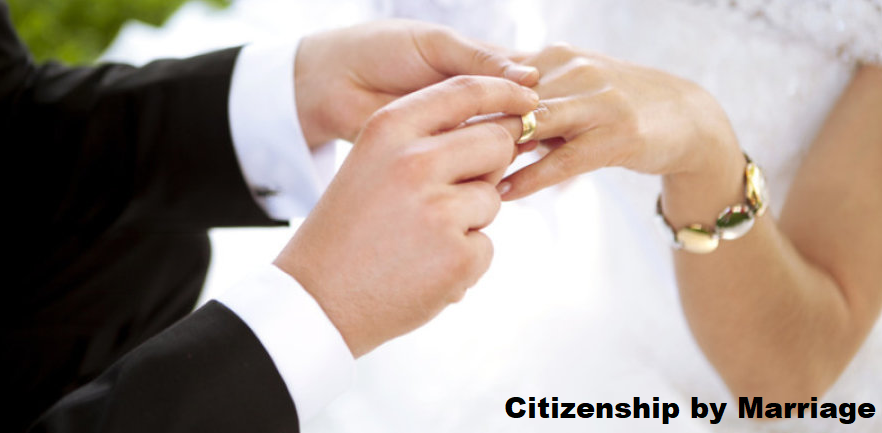 Citizenship by Marriage in Canada is quite complicated. If you marry a Canadian citizen, then you do not automatically get citizenship as is the case with a few other countries. In Canada, you have to follow the same procedure for citizenship as any other applicant.
Are there any benefits?
One benefit of marrying a Canadian citizen is that the Canadian spouse can sponsor you for a permanent residency. However, this benefit also comes with conditions.
The spouse has to become a sponsor not just in terms of the permanent residency process, but also in terms of financial obligation. Essentially, the spouse has to commit that he/she can financially support and cover your basic needs.
Not only that, if the relationship between you and your Canadian spouse ends for some reason, then the spouse is still liable to provide financial support. If you cannot support yourself financially, then the government will claim support money that they spend on you from your Canadian ex-spouse.
Can my spouse sponsor me for citizenship?
If your spouse is willing to sponsor you after knowing about these obligations, then a Sponsor application has to be submitted by the spouse. You also need to submit a general application.
Then, you and your close family members have to undergo medical examinations. Even if your family members do not intend to live in Canada or emigrate, they still have to take the medical examinations.
Do I need to apply for a work permit?
Getting permanent residency via the marriage route can take some time. Hence, if you intend to work in Canada for that waiting period, then you also need to apply for an open work permit under the category of "Spouse or Common Law Partner in Canada". You can make this work permit application along with your permanent residency application or after submitting the residency documents.
How much does it cost for sponsoring my spouse?
The open permit normally takes four months to get approved. An application fee of CAD $1040 is payable for sponsoring a spouse for a permanent residency.
Are there any other requirements?
Getting a passport after becoming a citizen is straightforward. You have to wait for two business days after you become a citizen. Then, you need to fill out a passport application form on your computer and then print it.
Next, you need to find a guarantor who has known you for more than two years and who holds a Canadian passport. The guarantor has to sign your passport application form and supporting documents. You also need to provide names of two references in your application. These references cannot be family members.
Next, you need to gather supporting documents, your citizenship certificate, and passport photographs and take it to the passport office. You can also mail your documents to the office. You also need to pay a CAD $160 fee before you apply for your passport.
How do I become a permanent Canadian resident?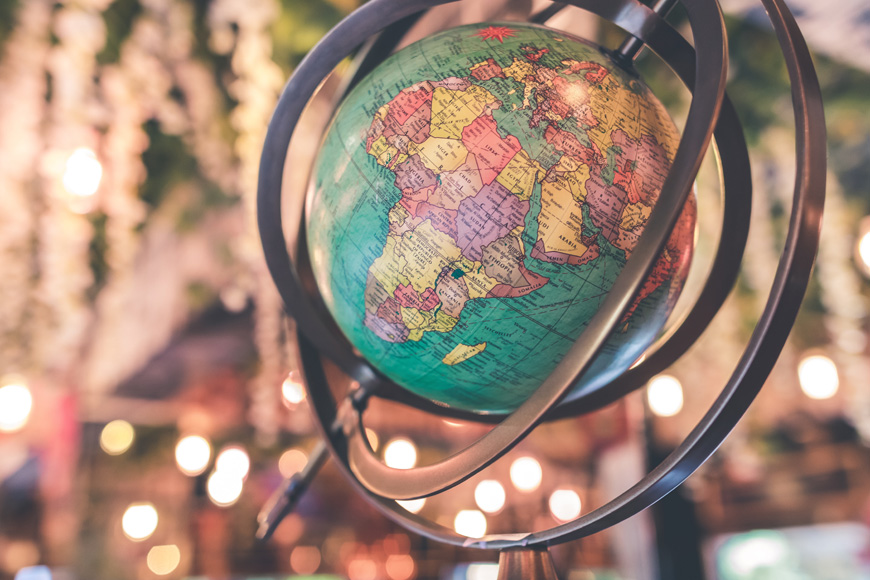 As pointed out above, getting a permanent residency is the most difficult part in the path to becoming a Canadian citizen. The task is further complicated by the fact that the number of permanent residencies handed out each year is capped at 300,000.
What are the main ways to get citizenship?
There are three main channels that make immigration to Canada possible. The first is humanitarian factors, the second is reunification with family, and the third is economic programs. The most common channel for immigrants becoming permanent residents is the third one, economic programs.
Canada has plenty of economic immigration programs. People with substantial money in the bank, people with business experience, and high-skilled workers have all been beneficiaries of Canada's permanent residency.
Express Entry Program for skilled workers
Express Entry program is designed for high-skilled workers who wish to become permanent residents and eventually citizens of Canada. This program is not open to investors or entrepreneurs.
It also does not apply to anyone wanting to immigrate to Quebec. Quebec has its own immigration program and Express Entry requirements do not apply to that program.
The application for Express Entry is free. Once you apply, the immigration authorities will assign you points for various skills and attributes that you possess.
How many points do I need to get?
A skilled worker needs to achieve 67 points out of a maximum of 100 points in order to be eligible for permanent residency under the Express Entry Program.
An applicant receives 24 points for language proficiency in one language and 28 if proficiency in both English and French can be demonstrated. Your education will also give you points. The minimum is 5 points for a high school certificate and the maximum for a Ph.D. is 25 points.
Prior work experience also results in additional points. Applicants with 6 or more years of work experience can score 15 points, those with four to five years can score 13 points, and every year lesser than four years results in a deduction of 2 points from the 13 point mark.
If the Canadian government deems that certain industries have excess labor supply, then such industries can be restricted from the points system from time to time. A permanent job offer in Canada can result in an additional 10 points.
Is there a maximum age for Canadian Citizenship?
Age is also a factor. Those between the ages of 18 and 35 get 12 points. Every year over 35 results in the loss of 1 point. People over the age of 47 receive no points. Additional points can be obtained if you have a relative living in Canada or if your spouse also has a strong educational background, language proficiency, or work experience.
Once you apply for the Express Entry program and are found to be eligible, you have to demonstrate language proficiency in either English or French.
Your Express Entry application may not be successful if you have a criminal history, serious health issues, any past record of organized crime, or any record of human rights violations. Even if any of your family members have been barred from entering Canada, then it will also bar you from immigrating to Canada. The immigration system in Canada is pretty strict.
One can also become eligible for the Express Entry program if a particular Canadian province nominates a skilled worker for permanent residency under the Provincial Nomination Program (PNP program). Most provinces throughout Canada have their own immigration programs. To find out more, you have to visit the website of each province.
What is the Quebec Skilled Workers Program?
Quebec has its own immigration program which is outside the ambit of the Express Entry program. This program is called the Quebec Skilled Workers Program. It is designed to attract skilled professionals and educated students to Montreal and other cities in Quebec.
Does it have a points based system?
QSWP also used a points system like the Express Entry system. The rating of points for various attributes is a bit different, but the principle is the same. It is based on factors like language proficiency, educational qualifications, family ties in Quebec, work experience, etc.
Can I apply online?
In order to apply, you have to fill out an online application and then allow some time for the immigration officials to determine your eligibility. If you are deemed eligible, then a CSQ will be granted which can then be used to apply for a permanent residency.
Can I get Citizenship via investment?
Investors who are willing to invest a minimum of CAD $2million in a government-controlled venture capital fund can apply for permanent residency. There are two main programs geared towards investors:
What is the Immigrant Investor Venture Capital (IIVC)?
This program is for those investors who want to move to a province of Canada other than Quebec. A personal net worth of CAD $10 million is the minimum requirement for eligibility. Inheritance money cannot count towards the 10 million minimum. It has to be sourced through business or investments.
How will I be analysed for IIVC?
Once you send in an application, the source of your wealth will be analyzed. Besides wealth, your educational qualification also needs to be higher than a post-secondary degree. The higher your educational qualification, the better it will be from the IIVC's application point-of-view.
At the final stage of the application process, you will be required to make the CAD $2 million investment. This capital is subject to the same risks that any VC investment would be. You may expect to get your investment (hopefully with some returns) back over time or when the duration of the fund ends.
What are the risks of IIVC?
It is entirely possible that you may not get your investment back if things do not work out with the investee company. So, making an investment via IIVC is very similar to make a regular VC investment. The risk factor is high.
The Business Development Bank of Canada assigns fund managers for the IIVC fund. Investments are made in promising Canadian start-up businesses located outside Quebec.
The application process for IIVC is quite simple. You fill out a form, print it, and send it in along with other documents. Your profile, skills, and background are then assessed. If you meet all the requirements, then the immigration office will get in touch with you. You will then have to submit your passport and the evaluation will continue before a visa is pasted in your passport.
What is the Quebec Immigrant Investor Program (QIIP)?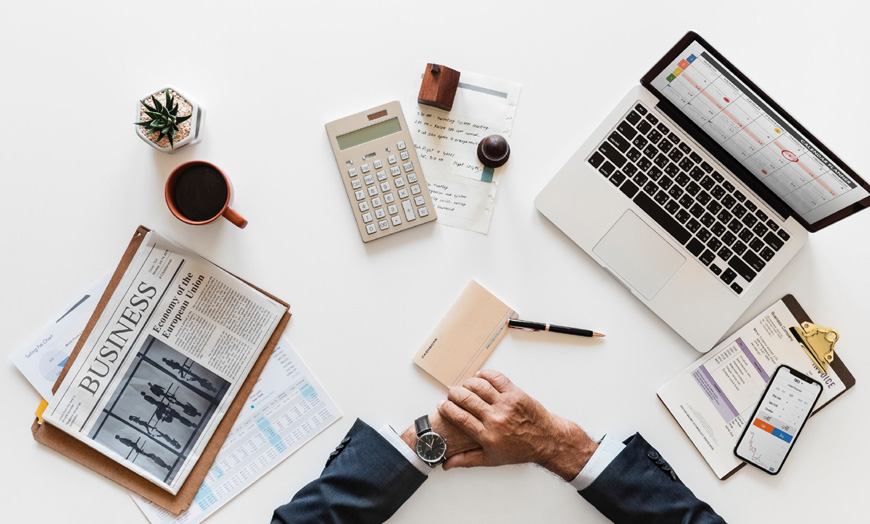 Quebec has its own investor immigrant program which is similar to IIVC. However, it is a lot more competitive because there are only about 1900 admits each year.
What is the investment level for QIIP  Program?
The minimum net worth of $2 million is substantially less than the requirement of $10 million in the IIVC program. The minimum investment needed is only $1.2 million (interest-free), which is also much lesser than the $2 million mandated by IIVC. What's more, the payback (the principal as interest is 0%) is guaranteed in 5.5 years post the initial investment.
What is the interest rate for QIIP ?
Interest is zero because the money you invest is lent to businesses or it is used to finance refugee programs. The benefits of the QIIP program also come with some additional requirements.
What experience do I need?
Firstly, in QIIP, you need to have strong management experience. You need to demonstrate that you have been a shareholder in a private company and have held a management role in that company for two of the past five years.
Do I need to stay in Quebec only?
If you intend to participate in QIIP, then you also have to stay in Quebec. In the past, various immigration programs have led to foreign nationals purchasing property and pushing the price up without actually staying in those provinces. So, to prevent a real estate bubble, the requirement of staying in Quebec was brought in.
If you have family outside Quebec, own property outside the province, or have children attending schools in provinces outside of Quebec, then you will probably be rejected. The immigration officials will analyze the likelihood of you not staying in Quebec and every detail will be closely analyzed.
While educational qualifications and language proficiency are not explicitly highlighted as a criterion for success in the QIIP application, they do count because QIIP is a lot more competitive than other federal investor-related immigration programs.
How do I apply for QIIP?
The application process for QIIP is similar to IIVC. You print out your form, send in all the supporting documents, and write a narrative document about how you accumulated your wealth.
If you are successful, you will be asked to come in for an interview. Successful candidates will receive a CSQ certificate. The CSQ can then be used to make a permanent residency application.
Programs for Entrepreneurs
If investor immigration programs seem like an expensive and a time-consuming prospect, then some people might find the entrepreneur programs more useful. There is a federal program applicable to all Canadian provinces except Quebec and there is a Quebec-specific program.
What is the Start-Up Visa Program?
The Start-Up Visa Program is for those entrepreneurs who have the ability to bring innovation to Canada. They should have the capacity of hiring local Canadians in their start-ups. The applicant of this program should hold at least 10% voting share in the start-up.
How many people can apply?
A maximum of five people can apply as owners. They should be willing to relocate their start-up to a Canadian province (except Quebec). All applicants collectively should hold 50% voting rights in the start-up.
In terms of financial support for your start-up, you must demonstrate that you have funding support from a Canadian government designated VC fund, angel investors, or business incubators. You have to pitch your business to multiple such designated organizations. Interested funds may ask you to present your business in person. If they like your start-up, then they will give you a Letter of Support.
What is the commitment?
Angel investors need to make a minimum commitment of CAD $75,000 and VC funds need to be ready to invest a minimum of CAD $200,000 in your start-up.
You will also need to establish your language proficiency, financial self-sufficiency for your family, and any other requirements of the Start-Up Visa Program.
Once all your documentation is in place, you have to fill out a form, print it, and send it in along with supporting documents. Once your application is received, it will be evaluated. If you are successful, the program office will contact you. Ultimately, you will receive a permanent residency and a travel visa.
Quebec Entrepreneur Program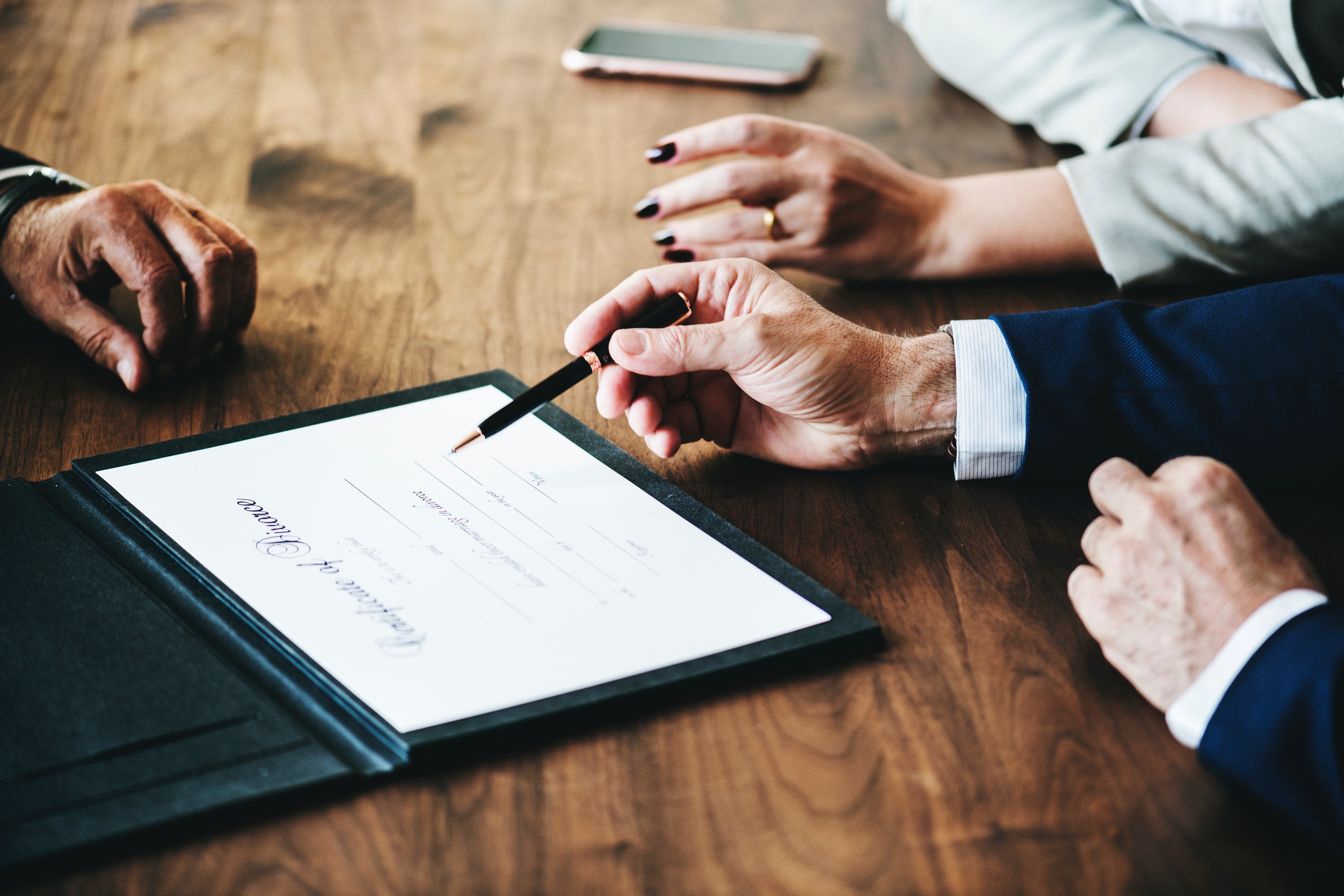 Quebec's entrepreneur program is more geared towards businessmen rather than start-ups. The maximum quote in recent times has been around 50 a year. So, this program is extremely competitive. There is even a cap on submitting applications. Only about 5000 applicants are allowed to submit applications.
What are the requirements for QEP?
Requirements for the Quebec Entrepreneur Program include establishing a net worth of CAD $300,000 (between the entrepreneur and his/her spouse), business management experience, a minimum 25% equity in a profitable business (with 25% being valued at at least CAD $100,000), and substantial management responsibilities.
You basically need to demonstrate that you plan to be an active part of a profitable and sizeable business if you immigrate to Quebec. Other factors like age, education, language skills, etc. are also evaluated.
The application process is similar to other investor programs. You fill out and print the application form. You then submit it along with other supporting documents, pay an application fee, and wait for the Quebec Entrepreneur Program office to contact you.
You then go through an interview if you clear the first round. If you are successful in the second round, you receive your CSQ. The CSQ then allows you to apply for permanent residency.